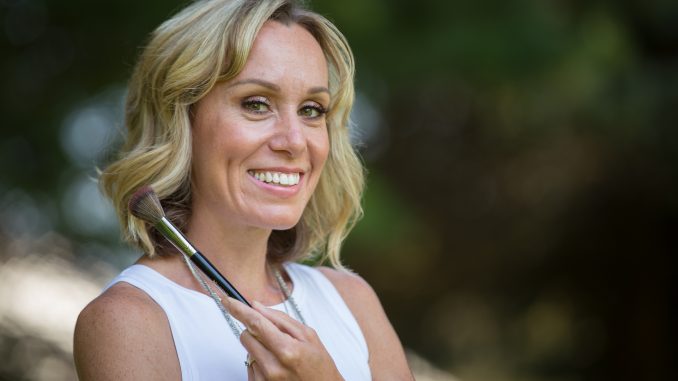 Hailing from East Coast, we are delighted to introduce Andrea McCardell who is the owner and professional makeup artist of Shades of Blush Studio located in Nottingham, Pennsylvania. Andrea has been beautifying her clients with Eyemimo false eyelashes for almost 3 years.
Eyemimo: Please tell us about yourself?
Andrea: I am the owner and professional makeup artist of Shades of Blush Studio. My passion for art and love of makeup started when I was a young girl in grade school. Art class was always a favorite of mine from drawing to color theory, to my Barbie sketch plates. Artistry was something that came naturally to me. To this day I am still inspired by the beauty and color that surrounds us in the world!
My makeup journey has been an absolute dream come true! Building my knowledge through attending Master Classes with MAC Cosmetics and Temptu in New York City. To working with the most incredible artists like Nicole Wagner in Portland, OR. And the one of a kind Master Makeup Class with Mario Dedivanovic (with Kim K as his model) in New York City. It helped build the foundation for my creativity and expertise in the makeup industry.
My signature makeup style is a "Natural Glam" inspired look. I believe in bringing out a client's natural beauty by enhancing it in a way that allows them to feel like the most beautiful version of themselves while keep the makeup natural! I have had the honor of work with the most amazing clients (brides & bridal party, maternity and prom). I feel incredibly blessed to be able to live out my passion in life!
Credit: Bride – Jacquelyn | Photographer – Megan Hoffer Photography
Eyemimo: What do you like the most and the least being makeup artist?
Andrea: I can honestly say my career has been the absolute blessing! I don't honestly know of anything that I don't love about being a makeup artist, because get to do what I love every day! Oh where do I begin with what I love the most about being a makeup artist! I would have to say it's the relationships that I've formed with my clients and the look in their eyes when they see their makeup for the first time! To be able to touch someone's life and make them feel special is why I love what I do!
Credit: Bride – Jacquelyn | Photographer – Megan Hoffer Photography
Eyemimo: Do you have any makeup advice that you would like to share with us?
Andrea: Yes, be yourself! Enhance the beautiful features you possess! And always add false lashes to your look! I customize every detail for my client's needs so that they can feel like themselves just a more enhanced version for their special event! Eyemimo lashes are a staple in my kit for creating my signature makeup looks! Make sure you prep your skin for your wedding day but using products that will not only nourish, protect but also enhance your skin. My favorite line to recommend to my brides is Sunday Riley skincare because it will truly transform your skin, which intern will provide the perfect base for the makeup application! That brings me to my last piece of makeup advice, always hire a professional for your special event! One who is trained to know what looks good on camera/film and who embodies the skills to ensure your makeup will look flawless and be long lasting!
Credit: Shades of Blush Studio
Eyemimo:  Is there anything else you want to share with us? such as the highlight moment of your career.
Andrea: The highlight of my career was pursuing my dream and launching my own business "Shades of Blush Studio" in January 2015. It has been the most rewarding and humbling experience of my life!
If you are in need for professional makeup service in Nottingham, Philadephia area, contact Shades of Blush Studio through her website at www.shadesofblushstudio.com or see their work on Instagram at @shadesofblushstudio.
or visit Shades of Blush Studio at
70 King Pen Road
Nottingham, PA 19362