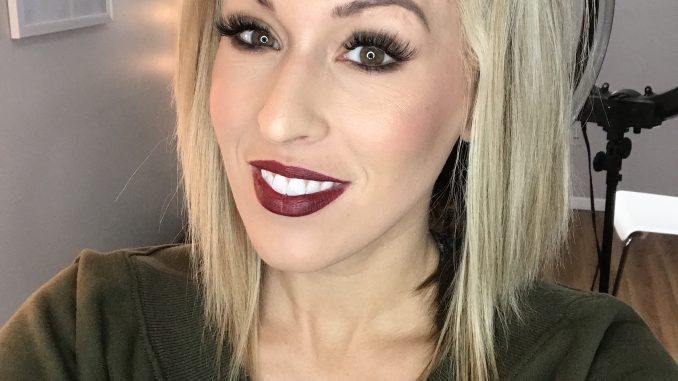 In the past year, Eyemimo has been proudly featuring makeup artists mostly from west coast. This month feature goes to midwest and excited to introduce one more makeup artists who have been using Eyemimo False Eyelashes as part of their makeup kit. Allow us to introduce Carrie Hreha, Owner/Makeup Artist of
Sta-Glam
.
Eyemimo: Please tell us about yourself?
Carrie: My name is Carrie Hreha and I am from Valparaiso, Indiana. I've been married for twelve years to my husband Tony and I have two children Aubrey (9) and Anthony (6). I graduated Valparaiso University in 2005 with my bachelors in Television and Radio. I worked briefly in sports on television before having my two children. I later went back to Beauty school where I received my esthetics licence.
In 2013, I started my business Sta-Glam in which I mainly focused on bridal makeup. In 2017, I expanded my business and opened up my storefront,Sta-Glam Makeup and Beauty Bar , which has definitely been the highlight of my career thus far. With the expansion I now have a team of three talented ladies (Antoinette, Katie and Hannah) and we offer a variety of services such as lash extensions, facials, with on location bridal makeup still being a main focus.
Photo Credit: Sta-Glam
Eyemimo:  What do you like the most and the least being makeup artist?
Carrie: The most challenging part of being a makeup artist is delivering realistic expectations with the constant influence of social media and it's heavily filtered and photoshopped images. As an artist, my goal is to to uplift women and enhance their features not cover them up.  Where my clients see flaws I see individuality and character.
The thing I love most about being an artist is personally creating customized looks for my clients which is why I enjoy using Eyemimo individual lashes to do just that!  Also, I love the personal connection I develop with my clients. What other job can you have that you allows you celebrate life's most precious moments with people?!

Photo Credit: Sta-Glam
Eyemimo:  Do you have any makeup advice that you would like to share with us?
Carrie: My advice as both an artist and a business owner is to do what works for you and do not compare yourself to others. I constantly strive to better myself as an artist and business owner by critiquing my own work. I always say, the day you have mastered your technique is the day you should retire because I am a firm believer you can always do better!
If you are in need for professional makeup service in Valparaiso, Indiana, contact Sta-Glam through website at www.sta-glam.com or see their work on Instagram at @StaGlam.
or visit Sta-Glam at
1105 Calumet Ave.
Valparaiso, IN 46383