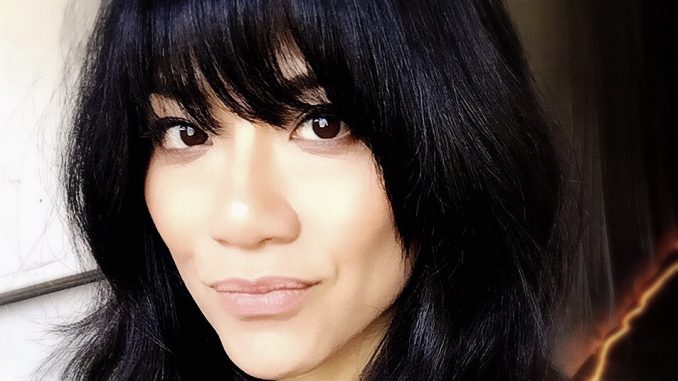 This month, Eyemimo is very proud to feature fellow San Franciscan who has been beautifying her clients with Eyemimo false eyelashes since 2010. Thank you very much, Julie, for your continued trust in our product as part of your makeup kit!
Eyemimo: Please tell us about yourself?
July: I'm a freelance makeup artist living in San Francisco.  I began my makeup career working for Laura Mercier cosmetics–that's really where I got a lot of education and experience with the basics of beauty makeup and also made a lot of friends in the makeup industry.  Working for that line, there was a real emphasis on creating beautiful skin and that skill turned out to be a huge asset to me later when I started doing work for on-camera, photography, film or video.  I've find myself doing a broad range of work in the Bay Area–from bridal services, editorial and commercial work, print, video, film and television. I really love the variety, being in new locations, and meeting new people all the time.
Photo Credit: Hannah Suh | Makeup: Julie Dy
Eyemimo:  What do you like the most and the least being makeup artist?
July: 
What I like most about being a makeup artist:
The collaboration and connection with people from so many different walks of life.  I'm with my clients before special events in their lives, whether its a wedding day some other celebration, or an on-camera/filmed situation, or some public appearance or photo shoot.  I love that I get to care for them before these special moments and help them a boost because they look and feel great.
What I like least about being a makeup artist:
It's actually kind of tough on the body!  I've had to learn to be conscientious about standing properly to avoid back pain, and lugging around my kit (and and my director's chair for client's to sit on) gets heavy!  It's become important for me to stay on top of doing back strengthening exercises and stretching my legs.  I do yoga to decompress my mind, restore my energy, and move my body.  Self-care is important!
Photo Credit: Michael Meltzer | Makeup: Julie Dy
Eyemimo:  Do you have any makeup advice that you would like to share with us?
Julie: Consider what type of event or situation you are doing makeup for, and what type of lighting there will be.  Sometimes you will want to use more, or less makeup, or make different decisions about your color or texture choices. Its fun to switch things up.
"I am obsessed with Eyemimo #NTR38 lashes!  I've applied hundreds of pairs of those lashes on clients and on myself.  They are great for just a little boost to the lash line and clients often comment on how much they like them and comfortable they are to wear. "
Photo Credit: Robert Andrew Rodriguez | Makeup: Julie Dy
Eyemimo: Is there anything else you want to share with us? such as the highlight moment of your career. 
Julie: A highlight moment for me was when I started doing work for Pixar Studios.  It's a dream to be surrounded by so many talented, creative, hardworking, and accomplished people.  And I get to do it all there–makeup and hair for men and women (the directors, producers, artist, animators..), press interviews, live television appearances, green screen, print… Getting to work there has been so special to me, inspirational, and fun!
Photo Credit: Brittany McCall | Makeup: Julie Dy
If you are in need for professional makeup service in San Francisco and Bay Area, email Julie at julie at juliedy dot com or see her work on Instagram @julie_dy or on visit her website at www.juliedy.com.