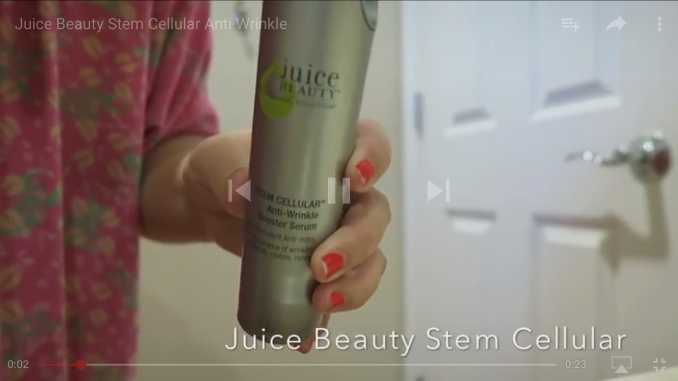 I am back with my quest on "product that works" for anti-aging. 
I have become an organic freak since the birth of my daughter eleven years ago. As a new mom at the time, I emotionally felt a baby was so precious and delicate creature and I felt that I should nurture my baby without unnecessary chemicals. At the same time, that was the time when organic started to go mainstream. 
From that point on, I have always been preferring organic or at the least naturally derived products.
Recently, I received Juice Beauty Anti Aging skin care products. For the last couple weeks, I have been using one of the products and do like the feeling of instant result in tighten the skin. Watch the video below to see the texture of the product.

Click Here, to shop Juice Beauty Stem Cellular Anti-Wrinkle made with a blend of Vitamin C and Fruit Stem Cells infused into an organic resveratrol rich grapeseed base to reduce the appearance of wrinkles.
Detail investigation of the product:
Texture Type: Gel
Texture Weight: Light
Aroma: Fruity
Absorption Speed: Moderate (less than 15 seconds)
Result: Instant tighten skin 
Price: $75 (weight: 1 oz)