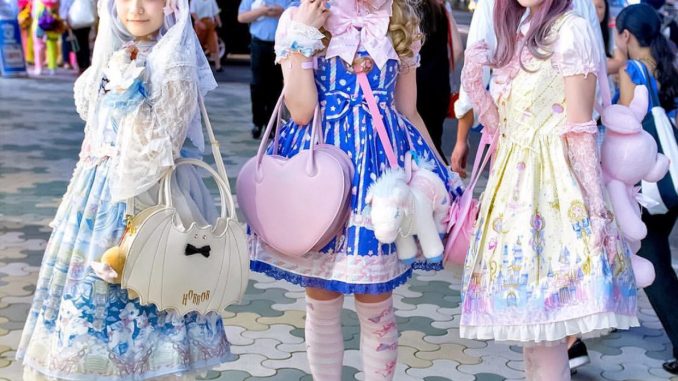 Japanese's pop culture has been phenomenal. One way or the other majority young people will get hooked by it. I recall that I personally got introduced when I was about ten years old. The cute characters of Hello Kitty along with other Sanrio characters, My Melody, Little Twin Stars to name a few stole my heart and continued onto my adulthood.
From cute characters under Sanrio brand/company to a very popular animation series called Candy Candy, I was one of the fans/consumers of the Japanese young pop culture.
The end of year 2015, I had an opportunity to visit Tokyo again, twenty one years later from my first visit. On my second visit, with my own small family, we made our way to Harajuku. My tween-age daughter and I were hoping to see people in costumes as we already previewed on Youtube. However, we went to Harajuku on weekday and hardly see any except one or two working girls that might require them to be in costumes.
For now to satisfy my curiosity with all kind of costumes in Harajuku, I have been following and seeing the feed of @TokyoFashion on Instagram.
Photo Credit: TokyoFashion.com
Photo Caption: @yui0256 (18) and @ka_ri_1226 (20) on the street in Harajuku tonight wearing cute and colorful resale fashion.
Photo Credit: TokyoFashion.com
Photo Caption: Miki (@miki55upi), Emi, and Usako wearing vintage kimono while walking around the streets of Harajuku.
Photo Credit: TokyoFashion.com
Photo Caption:Souka and Nattsu on the street in Harajuku wearing Japanese lolita fashion.
On Tokyo Fashion's website, they describe as an online fashion magazine devoted to clothing, accessories, and style in Tokyo, Japan. Visit their site at TokyoFashion.com.
Be whoever you want to be!
@jennypermanasari